Wimbledon 2015: A Social Media Overview
So Wimbledon has drawn to a conclusion, with Serena Williams winning the ladies tournament and Novak Djokovic taking home the men's title.
We've interrogated the social media activity surrounding the tournament to give an overview of what went on.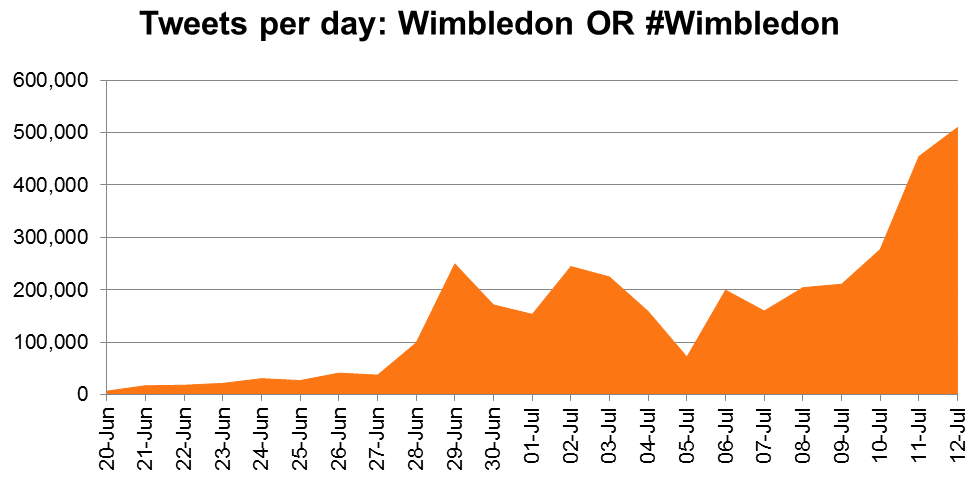 Never mind the heat and the rain, while the players were swinging their racquets it seems the rest of us were glued to our first and second screens – we've tracked 3,288,631 posts related to Wimbledon in over the tournament fortnight.
The lowest number of posts was recorded during the rest day the 5th of July when the total dropped to 72,014 posts. Meanwhile the highest amount of tweets was achieved on the last day of the tournament peaking at 509,743.
As well as enjoying and sharing our experiences of the fascinating tennis matches millions of people had a chance to laugh at some of the funniest moments. From joking about Drake making friends at Wimbledon, to Lewis Hamilton's outfit, here are our favourite off-court moments during Wimbledon 2015: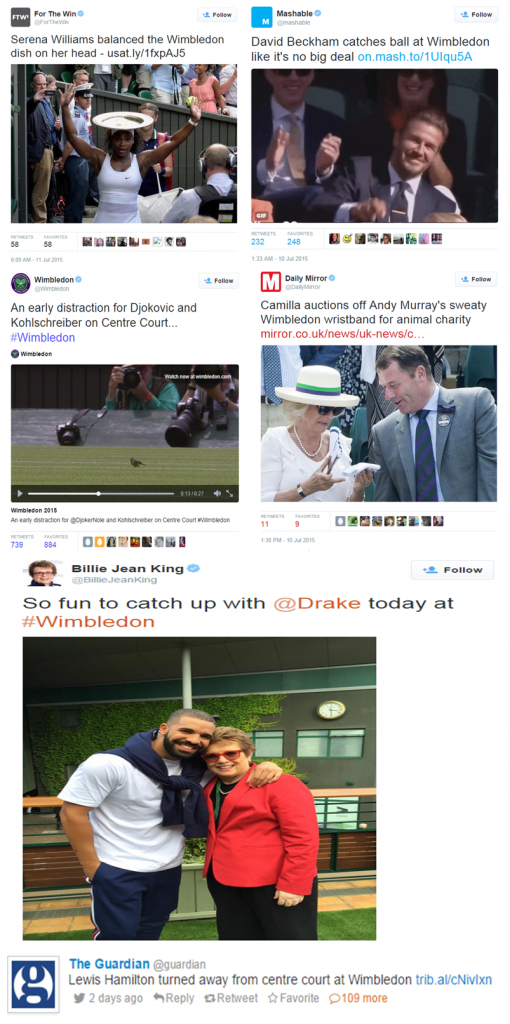 During the past two weeks we have also kept track of social media mentions on Twitter for the six top seeds. Roger Federer and Serena Williams generated the most buzz during the tournament winning with a total of 839,381 and 60155 mentions respectively. Halep recorded the lowest amount of conversations and sentiment.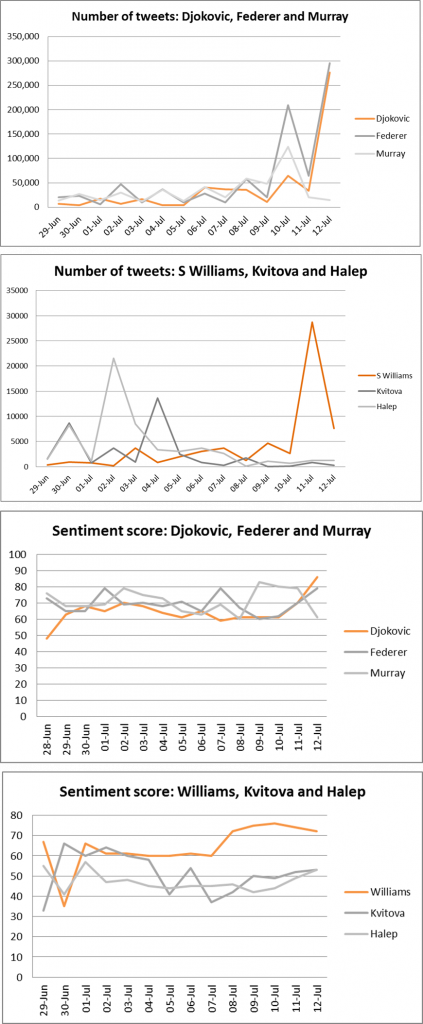 In terms of social authority, the statistics show that fan favourite Federer's Klout score has risen from 90 to 91.4 with the number of followers rising by 4.4% to 3,152,705, despite his loss to Novak Djokovic. The 129th Wimbledon winner's Klout score remains lower, at the 90 mark and the same score was achieved by Andy Murray, who might not have been in a great shape this year, but still managed to add 0.6 to his social authority rank by the end of the tournament.
As for the women, Serena Williams didn't only win on the court, but also dominated on social media. With 4.83m followers and a Klout score of 91 she easily has  the highest profile of any  professional tennis player. Petra Kvitova did not manage to reach such numbers, although she significantly improved her social media positions by adding 2 points to the Klout score for a total of 70.
Written by Vera P.