Cold weather is yet to start at St James's Winter Shelter
I had wanted to work with a homeless charity for some time before I was introduced to the West London Day Centre / St James's Winter Shelter through a friend belonging to the Muslim charity, The City Circle.  Whilst the St James's Winter Shelter is homed in a church the organisation reaches out to Muslim and Jewish communities as well and therefore, people from all walks of life are united by a simple desire to help provide shelter for those in need of it.
This was my and my friend's first time volunteering and we didn't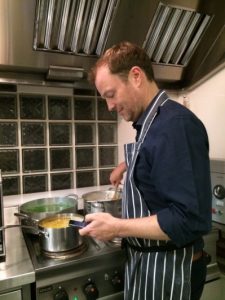 know what to expect. There's quite a lot to take in: where things are stored, which switches to turn the lights off, and which switches to never turn off (such as the church clock!)…but to also start to understand what it means to be homeless. It led me to thinking about how to socially approach guests; routine conversation openers have to be considered in a different light. The guests are referred to the Night Shelter by the West London Day Centre so it's not a drop-in service. The WLDC co-ordinates several venues including Tuesday night at St James's Night Shelter, which on my shift, was hosting fifteen guests.
The volunteering is broken into four teams: kitchen, evening, overnight, breakfast. You're asked to commit to at least six shifts between December and May. Since I'm fortunate enough to be in a position to do all, I volunteered for everything.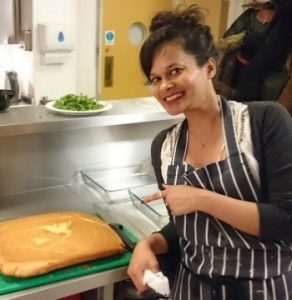 My first shift: kitchen duty. Having started life in hospitality and events, this was something I was looking forward to. St James's previously raised funds for a fully commercial kitchen to be installed, so under the instruction of a more seasoned volunteer we got stuck into the evening's repast. Soup on arrival, sausages & mash for main course, bread and butter pudding for dessert. The St James's Winter Shelter makes sure to cater for all dietary requirements, even including separate gravy for vegetarians. Nerves were getting to me having never cooked bread and butter pudding before (to my shame!) We were fortunate enough once the food had been cooked to sit down with the guests for dinner, which was quite a treat due to the menu being well received.
One of the best aspects of the shelter, strangely enough, was the lack of
conspicuous gratitude. It felt more like a group of people who had come together to share a meal and some company, similar to having guests in your house. It created an atmosphere of camaraderie rather than charity, making everyone feel more relaxed.
I start 2016 mindful of the fact that the festive season, synonymous with charity, is now behind us, but the cold weather has really yet to start. If you wish to help through donations, charitable giving or volunteering please check out their website http://www.wlm.org.uk/how-you-can-help/donations or their Just Giving page https://www.justgiving.com/warmbedsnotcoldstreets/
For me? I guess our motivations are all different. I wanted to do something that wasn't about "me" although I have to admit though this experience was tremendously rewarding and something I aim to continue being involved in.
-Written by Marcus C.