Who will win Wimbledon 2017? The hopes of the tennis fans revealed.
As a Wimbledon based PR agency, the kick off of the Wimbledon tennis tournament always get us excited. Who will win Wimbledon 2017? What incredible tennis battles will we see on the court?
This year, not satisfied with the usual office banter, we have decided to tap into the power of Say's proprietary Listening Station to analyse social media conversations and get a sense of who people want to see triumph at the tournament.
We didn't just look at the numbers, but also unearthed the emotions that drive fans' love for Wimbledon: which of the top male players do fans hope will win? What is driving their passion and how do they express it on social media? Who do people want to see clashing at the final? Finally, the hopes of tennis fans are revealed!
So let's take a look at the top five players who will be fighting for the title at Wimbledon 2017. We analysed tweets in English language posted from 1st to the 27th June searching for hopes of the fans for each player.
1. Andy Murray 
Reigning Olympic champion. Won Wimbledon twice, in 2013 and 2016, but lost to Roger Federer in 2012. Despite not having had a great season so far, people still wish he will make a fantastic comeback at Wimbledon. His hardcore fans hope that he will prove his doubters wrong and British pride imposes all tennis fans from the UK to support the national hero. If you want to back Andy Murray, add #comeonandy to your tweets, it has been used 107 times in the last month!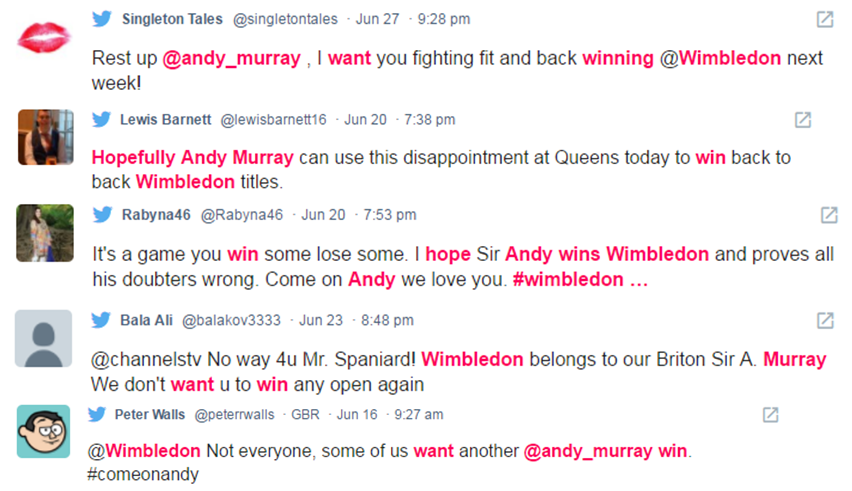 2. Rafael Nadal
Known by fans as "Rafa" or "the King of clay," he has played 22 Grand Slam tournaments. He has won Wimbledon twice, including his 2008 win against Roger Federer in what is considered by many to be the greatest match ever played!
Most people have messaged the player to personally wish him well for the tournament and if you want to support him, remember to tweet using #vamosrafa, it has been tweeted 25,541 times this month and 329 times for Wimbledon alone!

3. Stan Wawrinka
Has reached the quarterfinal for Wimbledon twice, in 2014 and 2015, but has never played the final. People want to see him winning to finally complete a career slam:

4. Novak Djokovic
He has won 12 Grand Slam titles to date, including 3 Wimbledon finals. Djokovic has the least support on Twitter, but he can count on some hardcore fans:

5. Roger Federer
Federer has played pro since 1998, the longest of any top player. He has won 7 Wimbledon finals and is considered by many to be the best player of all time. He can also boast the best series of nicknames of all time, since people commonly refer to him on Twitter as King Roger, Federer Express, JesusFed, maestro or simply #GOAT – Greates Of All Time!
If he wins this year, it will be Federer's eighth Wimbledon title and fans would love to see that happening: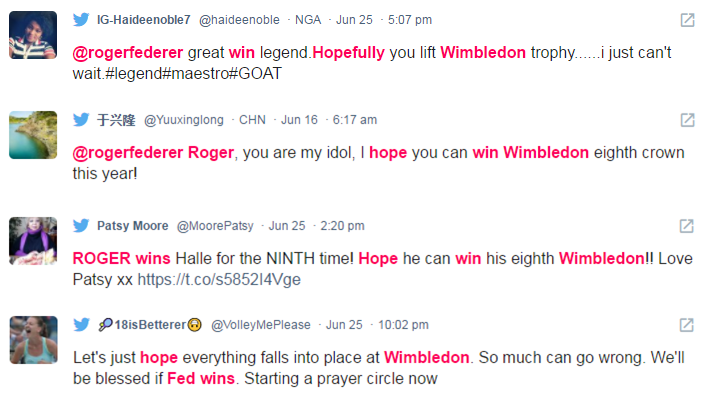 Wimbledon 2017 hopes: the verdict
By analysing English speaking fans' tweets on what they hope and wish for Wimbledon 2017, we found that most fans are rooting for Roger Federer to take home yet another title. Nadal comes second, followed by Murray, Wawrinka and Djokovic.
Who tennis fans want to see competing during the Wimbledon final?
When it comes to which players fans want to see going head to head this year, it's no surprise that most are hoping for another Nadal v Federer face-off.

People are calling it the #DreamMatch and saying it will define who can be called the greatest player in men's tennis. A lot of fans are nostalgic for the 2008 Fed vs Nadal match, some wanting to relive (or avenge) Rafael Nadal's historic victory against the reigning King of tennis.
Who will win Wimbledon 2017 in your opinion? Are you among the majority who wishes to see "King Roger" win again? Share who you place your hopes on in the comments and keep the conversation going!