What is Threads and How Does it Work?
Launched by Meta in 2023, Threads is a messaging app enabling intimate communication between close friends on Instagram. Users create private "threads" to share text, photos, videos & real-time status updates with selected contacts. Posts can be up to 500 characters or 5-minute videos.
As a companion to Instagram, Threads incorporates existing safety tools like blocking & reporting. It also enables sharing content across both platforms.
Key features include:
Direct messaging within threads
In-app camera for instant visual sharing
Auto status updates
Customizable interface & notifications
Access to Instagram's safety tools
Threads simplifies staying in touch with close connections through quick, casual messaging. Within 5 days of launch, it hit 100 million sign-ups, demonstrating demand. The app fills a gap in intimate, friend-focused communication on Instagram. For brands, it provides a channel to engage loyal communities with exclusive, insider content.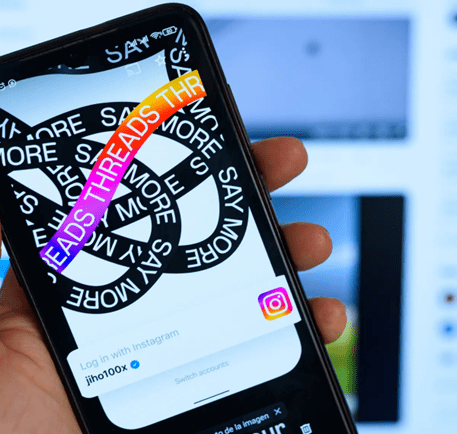 How Threads Competes with X
As a micro-messaging platform, Threads could disrupt X's dominance through tighter Instagram integration & private communication features. While X facilitates public conversations, Threads focuses on intimate exchanges in close circles. With projected $8 billion revenue by 2025, Threads is rapidly gaining young users, indicating a shift towards private messaging.
This poses risks for X as brands & audiences migrate to Threads for exclusive communities & content. Brands should diversify across both platforms.
Key advantages Threads holds over X:
Unified profiles & contacts via Instagram
Streamlined cross-platform sharing
Enhanced privacy & intimacy for users
Threads' seamless experience gives it an edge over X's disjointed interface. For brands, it provides a channel to deepen engagement with loyal followers.
As user bases converge, Threads may outpace X in active users over time. But both platforms offer engagement opportunities as preferences evolve.
Early Reviews Reveal Both Promise & Limitations for Threads
As a recently launched app, early reviews highlight both favorable impressions & functionality gaps of Threads versus competitors like X.
On the positive side, users see Threads as a more intimate, less confrontational platform compared to X's frequent public disputes. This aligns with Meta's goal of maintaining an amicable community as Threads expands.
However, reviews also note the app's stripped-down experience relative to X's robust features. While Meta plans to enrich capabilities over time, Threads currently lacks key utilities that power users expect.
Additionally, early sign-ups do not necessarily indicate strong retention potential. Many users admit uncertainty about why they joined Threads or how they will actively engage on the platform. For brands, these reviews underscore Threads' advantages in facilitating friendly community engagement free of public toxicity. However, its minimalist design caters more to casual users at this stage, limiting utility for power users.
While the initial influx points to interest in what Threads promises, Meta will need to rapidly enhance features & communicate differentiated value to retain users beyond sheer novelty. Still, the app's early reception highlights the demand for more curated, constructive social media experiences.
Should Tech B2Bs Engage Early with Threads?
As a new platform, the long-term potential of Threads is still uncertain. However, early adoption offers advantages for B2Bs seeking to expand engagement channels. By establishing a presence while uptake is minimal, brands can cultivate communities & visibility before most users join.
While Threads may prove a passing fad, the app clearly resonates with shifting preferences towards intimate social spaces. It presents a low-risk opportunity for B2Bs to expand their reach & offers B2B brands chances to expand engagement:
Cultivate communities & visibility before mass user influx
Get recommended to new users during growth, capturing followers
Involve minimal risks & costs given familiarity from X
Resonates with shifting preference to intimate social spaces
Low-risk way to widen reach & connection points
Potential benefits include:
Forging authentic relationships
Sharing bite-sized content
Driving traffic
Building brand advocates
Gathering direct feedback
But Threads also poses initial challenges…
No advertising yet to boost reach/awareness
Minimal content visibility beyond current followers
No live broadcasting
For now, our point of view is that brands should focus on owned community nurturing over passive reach for now. As capabilities expand, re-evaluating Threads' broader role will be crucial. Early engagement offers upside, but long-term user retention remains key.
B2B Tech – How are the Early Adopters Using Threads?
IBM's Early Threads Strategy
While their Instagram centres on products & initiatives, IBM's fledgling Threads presence takes a more conversational, engaging tone. IBM threads lightly uses humour, memes & culture glimpses to humanize the brand. Occasional links provide education & lead generation, but the focus stays on entertaining versus promotion.
This informal strategy mirrors Threads' peer-to-peer design, prioritizing relationships over hard sells. IBM's experimentation shows Threads' potential for building authentic brand affinity. For other B2Bs, IBM's approach demonstrates adapting messaging & content to platform strengths.
Instagram
603,000 Followers
Mostly product-related content
Employer Branding (stories of employers and their life at IBM)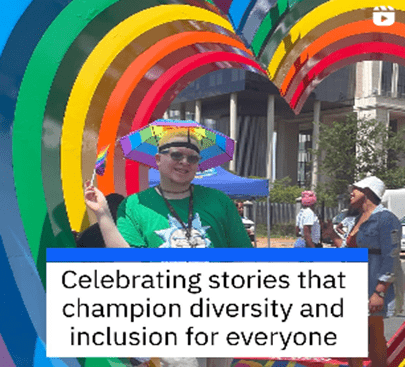 Threads
69,735 Followers
Couple of content-related posts
Mostly memes and funny threads


Cisco's Playful Start on Threads
While their Instagram is more corporate, Cisco is piloting a more playful brand presence on Threads. Early Threads posts incorporate humour & light-hearted content to grab attention versus their formal Instagram strategy. This experimental tone aligns with Threads' casual, peer-sharing design.
Cisco shows that brands should customize messaging to match platform strengths. On an intimate platform like Threads, brands may need to relax polish in favour of relatable content that builds affinity.
Instagram
504,000 Followers
Product/solutions related content
Pride Month, Inclusion, Diversity
Events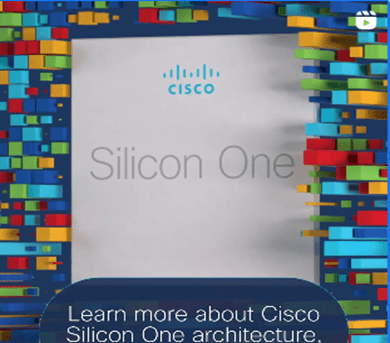 Threads
55,597 Followers
Humorous approach
Salesforce's Consistent Yet Tailored Presence
Unlike IBM & Cisco, Salesforce takes a more integrated approach across Instagram & Threads. Their Threads content mirrors their Instagram strategy, blending product updates with engaging posts. However, Salesforce does customize tone & format for each platform. Threads posts are more concise & conversational, while Instagram is polished & graphical. This shows how brands can maintain a consistent voice while tailoring delivery for each channel. Salesforce provides a model for unified yet tailored presence across platforms.
Their activity demonstrates adapting an existing social media voice to be casual yet on-brand. With this presence, Salesforce makes the most of both emerging & established platforms.
Instagram
220,000 Followers
Mixture of solutions related content, event and memes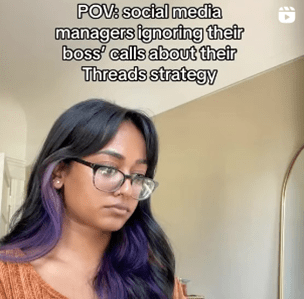 Threads
29,306 Followers
Some similar posts to Instagram but mostly memes
Some informative threads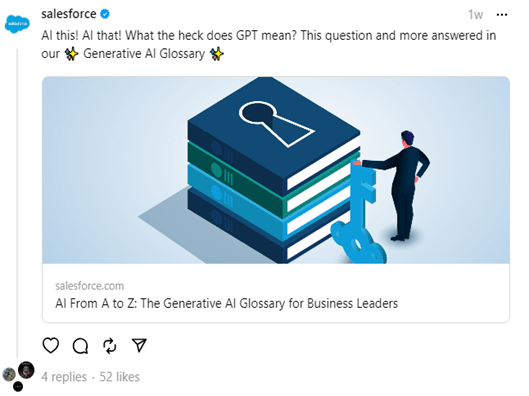 Key Takeaways from Early B2B Tech Brand Approaches on Threads
Initial brand activity on Threads reveals some emerging best practices:
An informal, conversational tone that contrasts with polished Instagram strategies. Humour & memes grab attention in what is currently a very casual environment.
Less overt promotion & more focus on engagement, culture, & personality. This allows brands to make personal connections.
Customized messaging that matches each platform's strengths, while retaining core brand voice.
An opportunity to incentivize Instagram followers to join Threads & unite audiences across both platforms.
These early experiments show Threads' potential for brands to build relationships by sharing less promotional, more humanized content. While still nascent, our view is that the platform offers a space to creatively engage target audiences, rather than as a meaningful lead generation space. It may well have value in its community & brand-building potential though, which our recent report shows is the bedrock of generating sales over the medium to long term.
Analyzing Threads' Prospects Against X
Threads made headlines by amassing 100 million users faster than any prior app post-launch. However, data shows engagement plummeting after initial excitement. Despite frustrations prompting some X defections under Elon Musk, analysts say Threads faces hurdles in competing long-term.
Advantages include Meta's massive potential user base & resources. Between Facebook, Instagram & WhatsApp, cross-integration offers built-in growth. However, Threads must dramatically expand its features & use cases to rival X's established utility. Without compelling differentiation, early adopters may not stick around.
Despite a promising start in the battle to replace X, the number of daily active users on Threads has plummeted from 49 million to 23.6 million in a week, revealing that the platform still has a long way to go to gain enduring loyalty of users.
Here's a snapshot of how the two compared during the initial rush of excitement & the days after.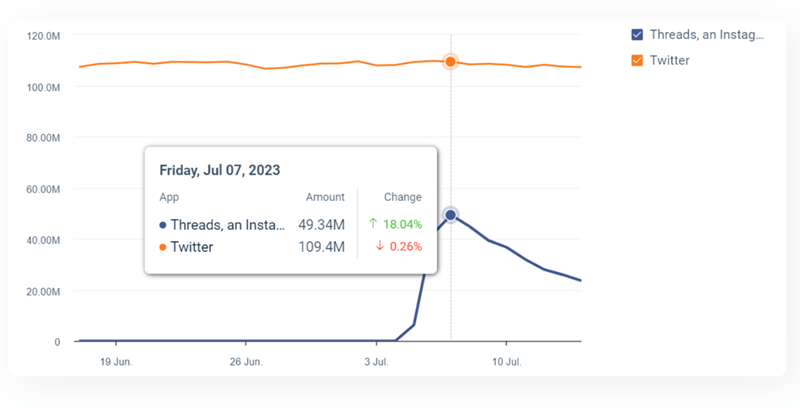 Even in its first days, Threads showed strong potential to eat directly into X's market share. Web traffic to X.com was down 5% on the first two full days that Threads was broadly available compared to the same days the previous week, while X Android app usage was down 4.3% in terms of time spent.
By avoiding the "empty party problem", Threads can gain a strategic edge. It allows Instagram users to create an account directly & take their existing contacts with them to the new platform. However, Threads lacks many fundamental capabilities & still must provide a compelling reason to move from X or begin a new social media habit with Threads.
The 'Network Effect' – Threads' Biggest Obstacle Against X
Threads' biggest obstacle is overcoming X's deeply engrained network effect, where value grows exponentially with user numbers. X's influential user base took years to cultivate. Without similar high-profile accounts, Threads may struggle to replicate X's gravitas and stickiness. Early celebrity sign-ups already show declining activity.
For B2Bs, this demonstrates X's lingering magnetism despite frustrations with leadership changes. If Threads can incentivize enough daily user habits, network effects may solidify its power. But dethroning X's self-reinforcing popularity will require immense, sustained effort over time.
Can Threads Leverage User Discontent to Compete Long-Term?
While overcoming X's network effect poses challenges, Threads holds advantages that may fuel its rise:
Massive user data, insights, & marketing resources via Meta's ecosystem
Potential to draw disgruntled X users amidst platform changes under Musk
Motivation of Zuckerberg's rivalry with Musk
Still, even with resources, converting interest into regular engagement remains difficult.
For B2B brands, the key takeaway is that neither platform will disappear in the near future. While some users migrate based on experience changes, both channels offer value.
Rather than betting on a single winner, savvy marketers will:
Maintain a thoughtful presence on both platforms
Closely monitor user sentiment & engagement data
Be ready to shift strategies & investment as usage patterns evolve
Gaining followers on Threads provides upside. But platforms thrive on network effects, making user retention everything. Where crowds consolidate & interaction flourishes are where B2B brands must engage.
Conclusion: Should your Company use Threads?
While some users are seeking alternatives, X still dominates business & public conversation. Musk's changes have dented its entrenched value, but not catastrophically. Not yet anyway.
For B2B brands debating where to focus, X remains essential for awareness, trend monitoring & PR. But Threads offers potential to deepen owned community engagement – a critical element in building the foundations for medium to long term, brand-driven sales. With its future unclear, Threads is not yet an either/or choice versus X. Savvy marketers will test its emerging role while ensuring X's presence is sustained & optimized.